The Neuromonitoring Technician
New to the field and ready to ask the questions most of us are already wondering. She's here to learn, but her most important job is to show that it is OK to ask questions.
The Anesthesiologist
The art of anesthesia is a balancing act and IONM restrictions can throw a monkey wrench in that process. He wants to play nice at all time, but is here to lend some perspective in circumstances where standard protocol needs to be questioned.
The Surgical Neurophysiologist
The know it all
DABNM
. He seems to have an answer for everything or at least a strong opinion. (And yes, he looks like a cartoon version of me)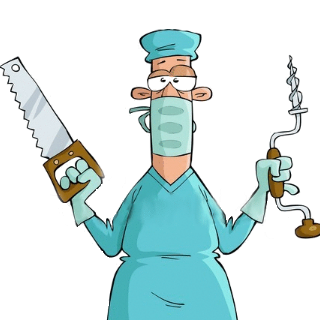 The Surgeon
You'll see him jump in from time-to-time to make sure you keep your monitoring feedback in the context of the case at hand. He's interested in what's happening, where, why and what is your level of confidence in what you're reporting.
The Operating Room Nurse
Been there forever and has seen it all. All except what we're doing back there in the corner. He's here to learn more about those little "squiggly" lines.
The Attorney
Not all lawyers are blood-suckers, but this one is the worst. He's watching your every step to make sure you're practicing at least above the standard of care. He hates this website, or any other resource that makes clinicians better.
How I Got Into Intraoperative Neuromonitoring
Like almost everyone I've met in IONM, I had no idea that I would end up in this profession while in school. So let me start off by telling my "how did you get into this" story.
I started my healthcare studies in occupational therapy at the University of Florida. I was interested in working in the health industry but didn't quite know what discipline yet. During my internships at a trauma rehab facility in Florida, I enjoyed my time to work with brain and spine trauma patients. It was rewarding seeing life altering changes with some of my patients. At other times, it was very discouraging to see little to no improvement. I left there knowing that I wanted to continue my education along those lines.
Since physical medicine was my interest, I decided to go to Parker University for chiropractic school instead of medical school. While there I continued to go along the neurology path. I later earned my diplomate in chiropractic neurology (DACNB) and did a sub-specialty in neurodiagnostic.
Later on, I was talking to a classmate of mine who was already in the IONM field for a year. We talked about what she was doing, and I began applying for jobs. It's often hard to get that initial job in this field, but luckily PAS liked my background and agreed to hire/train me.
Familiarity With IONM

15%

What I Thought I Knew

99%

What I Did Know

12%
Once I got over the initial shock of the OR environment, I decided that this was going to be a great career move for me. I really wanted to come out of the gates sprinting, so I made a concerted effort to learn every case type that I could. I lucked into a great training ground for someone looking for variety and I feel that was a key to my breadth of knowledge.
While I was happy getting all that exposure, I really wanted to have a true understanding of each modality as it pertained to the case types I was using it on. Acess to that information was far less than what I expected. Only a textbook here and there to read. There seemed to be very little resources available. After I learned about how competitive companies were with each other, it was a little easier to understand while everyone wasn't going out of their way to help the other guy out.
As I started to run into an academic roadblock, I ended up moving to Fl and working at an in-house facility. While the group was much smaller, I gained access to just about every publication that I wanted. And even though this facility did about 90% bread-and-butter cases + scoli's, I was able to really gain depth of knowledge during my time spent there. It was at this point in time that I started to realize I knew far less than what I thought I did and start this website to help chronical my thoughts and help others along the way. It was my way of making sure I knew the material by extracting what's in the literature and trying to explain it in a simple and useful manner.
After a couple years there and obtaining my DABNM in the process, I was offered a clinical manager position over a large group with another contract company. I once again found myself in a broad spectrum of case types, but also able to use the depth of knowledge gained tearing through the literature to help start some good conversations with the group. I was also happy to take on some new/different responsibility as a manager of a territory. This website found itself on hold due to some restrictions.
A couple of years later, I was then offered a VP of clinical services position at my current company (Sentient Medical). This position has allowed for me to experience more of the business side of our industry, which I feel offers me an even more unique perspective. I have once again opened up this website to share those experiences to hopefully spark some conversation and give access to information to those that might find themselves in a less than optimal situation.
Need Monitoring For Your Cases? Let's Get Started >>>
Need Monitoring For Your Cases?
My company has a national presence. No matter where you're located, we have the infrastructure to expand with ease. Fill out the contact information below and we can start the discussion.
IONM Question? Let's Talk Shop...
Interested in entering the field? Looking to make a career move? I speak to people in the field every single week (no joke). 1 more isn't going to hurt. Leave me a message here.