Propep Surgical: Pudendal Nerve Neuromonitoring During Prostatectomy
(Notes from Joe: Neuromonitoring used during prostatectomies has always made sense to me, so things made sense when Jann Rasmussen from Propep surgical talked to me about his new business venture. Just as easy as stimulating the recurrent laryngeal nerve during a thyroidectomy and recording from the laryngeal nerve, we could stimulate the pudendal nerve (perineal branch) and record from the levator ani muscle or external urethral sphincter. 
Actually, we could probably do it easier since this would be an intramuscular electrode placement. Throw in some intraoperative bulbocavernosus response and we might actually have something here.
The downside has always been that we could only monitor the somatic nerves and not autonomic nerves. And that problem still exists. But that doesn't mean that monitoring only the somatic nervous tissue isn't useful, as this guest post written by Shibu Thomas will outline.
Disclosure: I have no affiliation with Propep or financial incentive for posting this. Maybe someday – fingers crossed. I asked them to post for educational purposes.)
Robot-Assisted Radical Prostatectomy Using The Propep Surgical System
For decades, having surgery to remove a man's prostate due to cancer meant a large incision across the lower abdomen. The surgery was very bloody and the surgeon worked in a tight space in the pelvis with very poor visualization. In 1999, a surgical robot was introduced that allowed the surgeon to enter the patient via a few small holes and see right into the pelvis with a magnified view.
When Intuitive Surgical launched the da Vinci surgical system they intended it to be used in cardiac cases. Cardiac surgeons –  usually the most conservative of specialists – refused, and the da Vinci would not take off until a Urologist performed a radical prostatectomy with it and realized its potential. As the robot-assisted radical prostatectomy (RARP) technique evolved, surgeons advanced nerve-sparing techniques that were already in use in the open procedure.
These techniques were devised to avoid damaging the nerves that affect sexual function and urinary continence. Today, many da Vinci surgeons claim to perform a nerve-sparing procedure and claim outstanding results. But if current nerve-sparing procedures are successful, then why do 38% – 40% of patients experience sexual dysfunction and 20% – 44% of patients experience urinary incontinence after surgery?
These outcomes numbers are vastly higher than in any other surgery in which neuromonitoring is currently utilized. According to Dr. Ron Kuhn, preservation of nerves during da Vinci prostatectomy (dVP) has been clinically proven to be critical to the preservation of urinary function, but surgeon perception has been shown to be a poor predictor of nerve location during dVP.
Nerve-sparing during radical prostatectomy has traditionally focused on preservation of the parasympathetic nerves located within the neurovascular bundle (NVB) that are responsible for the vascular/filling phase of the erectile response. Studies have shown, however, that a somatic nerve, the perineal branch of the pudendal nerve (PBPN), not located within the NVB and found in variable locations around the apex of the prostate, drives the muscular phase of the erectile response. This nerve is responsible for the achievement of the full tumescence and rigidity needed for penetration.
Propep's Initial Findings – Where's The Perineal Nerve?
(Joe's notes – These are slides that go over some of the initial findings in monitoring the pudendal nerve (perineal branch) using the Propep surgical system. Shibu sent me the findings, and I added them to the slides below.)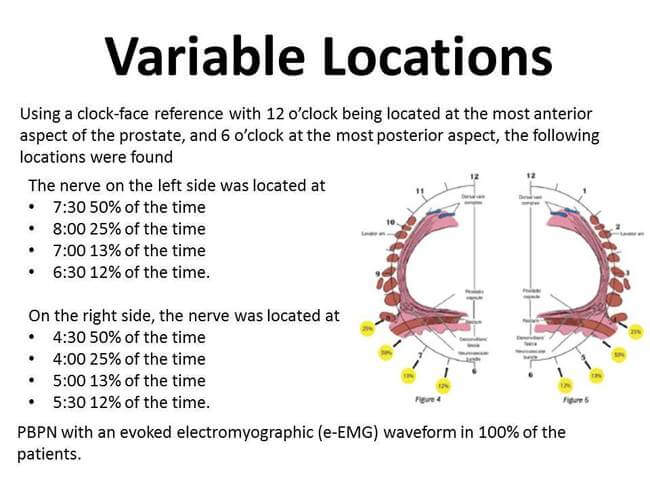 (Joe's Notes: I think Propep surgical system has potential. They're currently doing a large study on the results of postoperative outcomes. If they can answer the questions – "Does it prevent injury?" "Does it reduce sexual dysfunction and incontinence?" and "Is it cost effective?" – then we hope we can assume the answer to the question "Will we get paid for it?")
Here are some videos for you to get better acquainted with the surgery and monitoring during prostatectomy surgery.
Shibu Thomas
Sales Director, ProPep Surgical
Propep
is the first company to design a product that used with the da Vinci® Surgical System during robotic prostatectomy surgery that integrates with intraoperative neuromonitoring to monitor nerves responsible for sexual function and urinary continence.