The Road To A Successful Surgical Neurophysiologist Career
Whenever I speak to people looking to get into neuromonitoring, I try to give them advice that will help them make a decision beyond starting their surgical neurophysiologist career. This is a career, not a job, so they might run into problems if they don't consider the long run. If you get into the field by either earning an intraoperative neuromonitoring degree or going through a neuromonitoring training program with a company, you're going to have to make an investment in order to start your surgical neurophysiologist career. Whether it is time, money, effort or all 3, you're going to have to pay to play.
But what about the people that have made that decision and have found employment? What advice would I give those just starting their surgical neurophysiologist career – the same I wish I could give myself 9 years ago?
I'm going to include some advice that is relevant to building a successful surgical neurophysiologist career, but not necessarily specific to our industry. The purpose of the website is to help out those in the IONM field, even if that means going off topic a little. But if it gets you to take action, this article will be way more valuable to you than the other more clinically oriented article (like how to monitor a selective dorsal rhizotomy case, which you should read if you missed that one).
And since a large percentage of the readers of this website are young professionals, I am going to skew it a little that way.
Tips For A Fruitful Surgical Neurophysiologist Career
Sprint first, jog later – When you first start in the field, the amount of information thrown at you can be a little overwhelming. The only way to really handle it, in my opinion, is to dive right into the deep end and don't come up for air till you've got it. If you're willing to really commit yourself for the next 6 months, the payoff will be for the rest of your career (look at it as your residency). Tell your family and friends ahead of time that you're starting a new, meaningful endeavor, and it might monopolize your time for a short while. If you put in the work and earn your stripes early on, you're more likely to be given responsibility that puts you in the driver seat of a very successful career. At that point, you should treat your career as a never-ending process of growth and learning… but do not flirt with the consequences of burnout. You're making this a career that can span decades and you'll only get to the finish line with an appropriate pace.
Take advantage of the benefits – Most people grab their benefits package, look over their medical coverage, curse Obama's name and check out their PTO accrual. But some companies offer a ton more. Look to see what kind of educational support package you have in there. Some will have a nice chunk of change to send you to conferences, money towards books or research articles and will even pay college courses. Yes, that is all happening in the neuromonitoring field. It's a great way to help round out any weakness you have (afraid of doing craniotomies – sign up for a neuroanatomy course) or move your career the path you wish to take it. I've taken MBA courses from here all on the company dime. If you don't have those types of benefits, then you're going to have to do your best to find free resources if you're looking to learn more neuroanatomy, for instance.
Improve your financial IQ early in your career – The first two suggestions will help you with your neuromonitoring salaries. This one is about how to get more out of it over your surgical neurophysiologist career (a slow and steady process, nothing sexy about it). As stated above, make use of your benefits. This may include a 401K/403b program, and there might be a company match to boot (ALWAYS go get that free money. Seriously, if you aren't getting all of your company match, you really need to change that today). I started to get into personal finance just after passing the CNIM (entering the "jog" phase of my studies). Even though I think I have a plan that works, I'm in no real position to give anyone financial advice. Remember, at one point in my life, I thought it was a good idea to take on $135,000 in debt for a chiropractic degree. But the sooner you improve your IQ about your personal finances – and actually take action – the more likely you're going to be able to enjoy the fruits of your labor. In order to keep myself from the temptation of going on an investing rant, I'm going to give links to sources that can allow for a comfortable retirement… with the opportunity for early retirement should that be something of interest to you.

Increase versatility now in order to accommodate the future version of you – there is a pretty good percentage of people in the field of neuromonitoring that will start to have a change in interest and priorities over time. Some might want to really get into the research and help move the profession to the next step. Others might want to get into IONM management or business development of some sort. While some might have had those goals all along, others have no idea that they would want to pursue that path. My dad drove around in the hot Florida sun in a suit going to sales meetings. I knew in high school that I would never get into anything like that. Wearing pajamas (scrubs) to work every day was a perk that had my full attention. But now I find myself leaning towards interest where a suit it part of the uniform for at least part of the time. As I started to think about it as a possibility, I did some self-study first and some college courses next to make sure I would be prepared should something come my way. A lot of opportunities are dependent on timing. Take timing out of the equation as much as you can by being prepared.
Improve your circle of influence – you should make a conscious effort to continue to build your network within the monitoring field, but also maintain the ones you already have. Whenever I start talking shop with someone that works for a different company or hospital, it amazes me how different opinions and practices can be. Sometimes I think they are way off, sometimes I see their point and other occasionally I admit to being wrong and change the way I do things. You'll never be able to leech off of other people's experience if you stay to yourself. Not a great move, in my opinion, especially if you're starting out your surgical neurophysiologist career.
Find a flexible outlet – having a schedule that is ever changing doesn't allow for a lot of hobbies. But you should really find something that has the flexibility to work with your work schedule. I'm talking about the preservation of your sanity here. I've had to come to terms that I'm probably not going to be my son's soccer coach for his team (assuming he wants to play soccer), but I'll still be able to coach him on my downtime. And the amount of time that we find ourselves parked in a chair, you might want to chose a hobby that keeps you active (unlike starting a blog).
Appreciate the (lack of) size of our community – even though the field is estimated to continue to grow close to 10% over the next couple of years, the trend of consolidation continues. I have found myself in this situation as of last month when SpecialtyCare bought out Sentient Medical. With the merger of the 2 companies, the state of Florida (where I live) is dominated by SpecialtyCare. Trust me, I'm excited about the merger… but what if I wasn't? What if they weren't excited about me? My world could be very different today than it was last week. A lot of what I write about is positioning you to stick out as a leader in a small profession, but it is just as easy to stick out as a problem. Maybe easier. In such a small space, with worlds continuing to collide, you need to make sure that you stay on the up-and-up.
What about you? Do you have any words of wisdom to help others with their surgical neurophysiologist career? What about for remote physicians?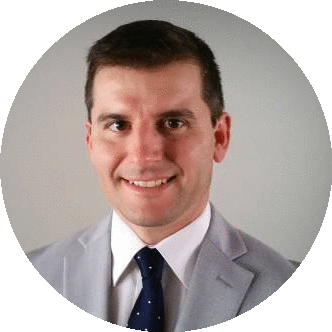 Joe Hartman DC, DACNB, DABNM
Vice President Of Clinical Services - Sentient Medical
Joe came into the neuromonitoring field as a board-certified chiropractic neurologist with an interest in neurodiagnostics. After earning a diplomate from the American Board of Neurophysiologic Monitoring, he started IntraoperativeNeuromonitoring.com as a resource for other surgical neurophysiologist looking to learn and discuss all things neuromonitoring. Once he started work at Sentient Medical in 2016, the website was relaunched and expanded to include webinars, polls, practice test and a forum. He spends more time tinkering on this website in his spare time than he cares to admit.
Want new articles before they get published?
Subscribe to our Awesome Newsletter.
Keep Learning
Here are some related guides and posts that you might enjoy next.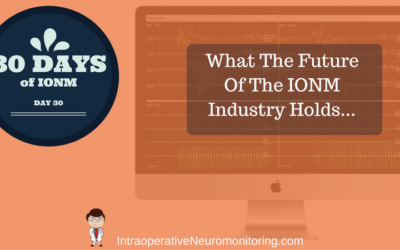 What To Expect From The Neuromonitoring Field In The Future? Anyone else want to make some predictions about the neuromonitoring field? Let's talk about what we can expect out of neuromonitoring in the near future. This line of conversation seems to come up a lot....
read more